Does your company match employee donations?
Matching Gift
and
Volunteer Grant
information provided by

Many companies have a matching gift program. You make a donation, your company matches it. All you have to do is ask.
Growth in CAF funding by school year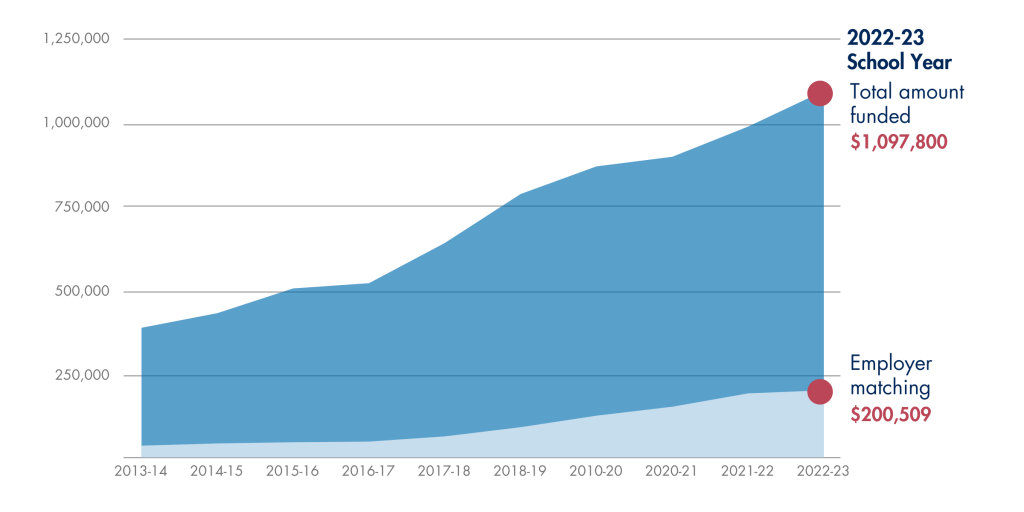 The matching gift donations CAF received in 2022-23 school year funded eight of the 21 additional class periods for our students.
How to match
You must request your employer match, typically through your HR department. To ensure a successful employer match, it is crucial to use the same name on your employer match documentation as you did on your original donation to CAF.
Tax rules prevent us from accepting an employer match that we cannot clearly link to your personal donation.
Donations are deductible as charitable contributions. Our Non-profit Tax ID# is 26-0325796.
Please mail any matching gift forms to:
Carlmont Academic Foundation
PO Box 104
Belmont, CA 94002
Our matching companies
We sincerely thank the following local companies that matched recent gifts made by Carlmont families.
Smart Addressee
ADP
AbbVie Pharmaceuticals
Abbott Laboratories
Adobe Systems, Inc.
Amgen
Bank of America
BlackRock
Braze
Bristol-Myers Squibb Foundation
Broadcom Gift Matching Program
Charles Schwab Corporation
Ciena
Cisco Matching Gifts Program
Corning
Course Hero
Delphix
Docusign
Elasticsearch
Electronic Arts Matching Gifts Program
Exelixis
Franklin Templeton Investments
Genentech Giving Station
Gilead
Global Foundaries
Google Matching Gifts Program
Gordon and Betty Moore Foundation
Hearst
Hewlett Packard
Home Depot
IBM
Intel Matching Gifts To Education Program
Intuit Foundation
Intuitive Foundation
JP Morgan
Johnson & Johnson
KLA Foundation
Kaiser Permanente
LPL Financial
LinkedIn
Logitech
Macy's
Netflix
Nvidia
Oath Inc
Oracle Corporation (Matching)
Pacific Gas & Electric Corporation
PayPal
PlayStation Cares
Pure Storage
Rambus, Inc.
RingCentral, Inc.
Roblox
Roche Sequencing
SAP Software Solutions
Salesforce Foundation
Samsung
Synchrony
Synopsys Inc.
Thermo Fisher
UBS Wealth Management
VISA Giving Station
VMWare Foundation
Varian Medical Systems
Wells Fargo Foundation
William & Flora Hewlett FDN
Xerox
Yahoo! Matching Gifts Program
This is not a complete list of the employers that match employee donations. Please check with your employer to see if your company has a matching gifts program.