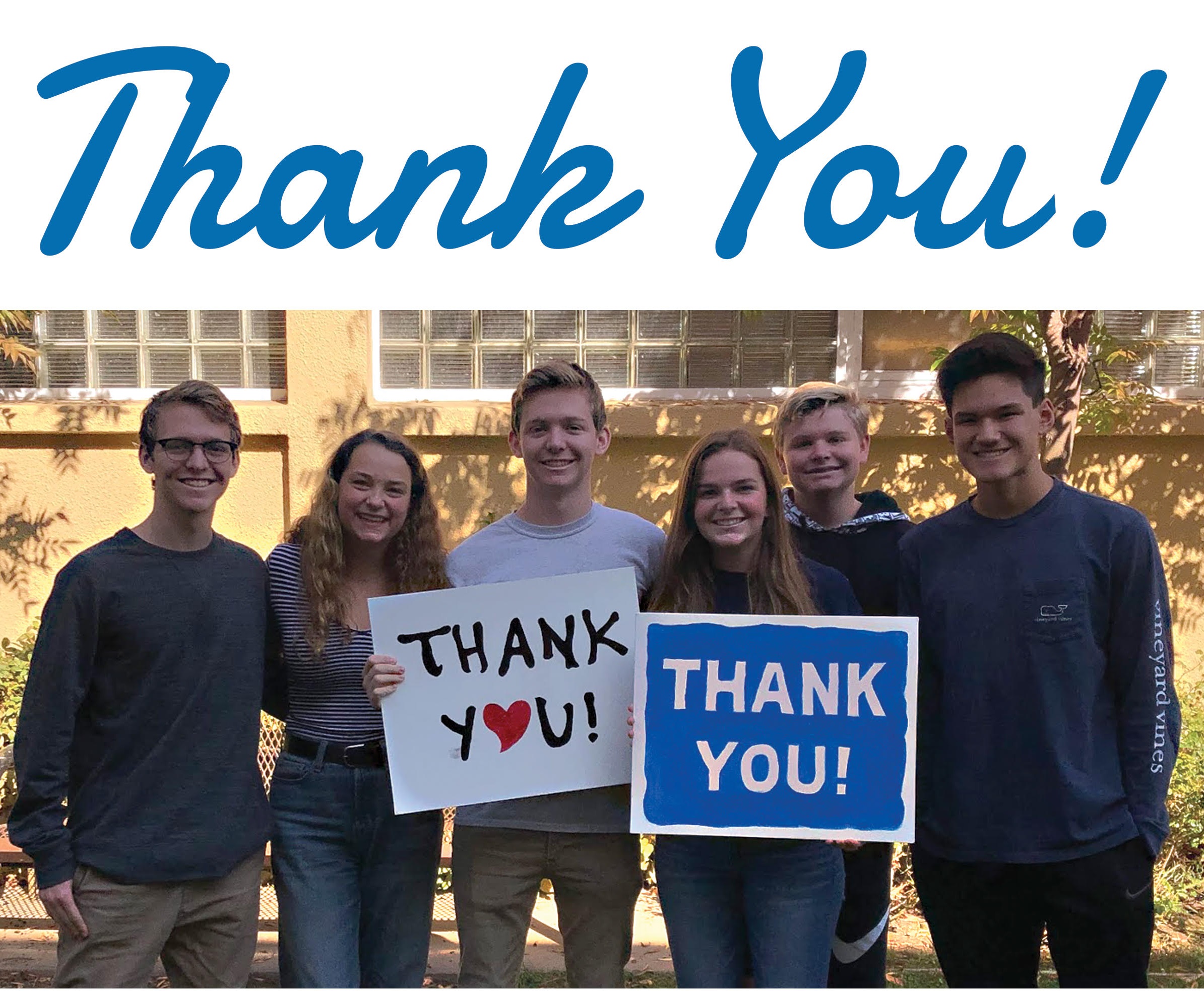 CAF would like to recognize the current parents, parents of alumni, staff, students, grandparents, community members, businesses and friends who have donated to CAF during the 2019-2020 fiscal year.

The 2020-2021 CAF Donor List will be available in the fall.
CAF has made every effort to compile an accurate list and sincerely apologizes for and inadvertent errors on this donor list.  Please send any corrections or updates to info@CarlmontAcademicFoundation.org.  
This list represents donations processed through May 6th, 2020.
Individual Donors:
Anonymous (71)
Sarang and Stella Abhyankar
Cris and Todd Adair
Betsy and Jay Adams
Bassam Afif and Catherine Nafissi
Siddhartha and Julie Agarwal
Joseph and Sue Kim Ahn
Ann Alexander and Paul Fuoss
Angie Allen
Lisa Allen
John Allison
Monica and Richard Allison
Urmi Amin and Manish Patel
Vania Anquino and Ivan Passos
Rob Anson and Danielle Lacampagne
Andrew and Catherine Aronson
Jonathan Atkin and Betsy Carter
Shelley & William Atlas
Al and Erica Attard
Lance Avants and Richard Hagan Jr
Perinaz Avari and Rohit Kapoor
Chris and Suzanne Awoyinka
Dina Ayupova and Serge Viatchenko Karpinksy
Nicole and Rod Bachelor
Giovanni Bacigalupi
Cynthia and Nima Badiey
Cherisse Baird
Rachna Balatikalandra and Satish Mekerira
Shauna Baldi
Cathy Balich
Douglas and Lois Balster
Laura and Adam Barde
Scott and Julie Barton
Hari and Reema Batnagar
Bryan and Gwen Baum
Ian and Lisa Bavey
Edmund D Baxter
Jamie Baxter
Emily and Ira Becker
Marla Becker and Daniel Lipton
Charles Bell
Christian and Veronique Bell
Paul Bellar
Jenna Bender
Donna and Robert Benner
Robin Bennett and Matthew English
Denise Benoit
Constance Bensen and David Saisi
Alexandra and Michele Bernardini
Best Family Fund
Mibhali and Milan Bhalala
Elizabeth and Ramesh Bhatt
Tapan Bhatt and Dita Naik
Heidi Bianchi
Erik and Laura Bierwagen
Chad and Tana Billingsley
Eric Bing and Barbara Rhomberg
Gina and Mike Binnard
Kristin Bish
Brian and Kimberly Bishop
Jonathan and Elizabeth Bissell
Oxana Bjornsen
Sharon E Bologna
Simeon and Jos Bols
John Jr and Yoko Borchelt
David and Patty Bove
Chris and Megan Bowman
Annette and William Boynton
Chris Boynton and Laura Gallinetti
April and Jay Brandon
Katalin Breier-Fedronic and Dominic Fedronic
Katherine and Robert Brendza
Christine and Michael Brennan
Karen and Robert Brodersen
Samuel Brown and Nina Rezai
Emmanuelle Brunot and Philippe Chutczer
Jeffrey and Jennifer Burgos
Rose Burns
Jan Butcher
Leo Butler and Martha Simmons
Gregg Byrne and Michele DeVries
Kristin and Robert Caldwell
Gifford Calenda and Christina Gil
Suzanne Campanile
Ivette and Scott Campbell
April and Jon Carlson
Kimberly Carlton and Oleg Lobykin
Josephine and Michael Cassidy
Irene and John Chan
Michelle Chan and Huan Phan
Nancy Chang and Sandor Szego
Sumitra Chari
Ranjini Chatterjee and Keith Kepler
Aldo and Cathy Chavez
Charles and Lisa Chavez
Carilee and Erik Chen
Anonymous
Kun Chen and Yuhua Su
Patricia Chiang and Cheng Su
Veronica Chico Rickson
Anonymous
Jay Choothakan and Angela Soohoo
Chris Chow
Daniel and Jennifer Chu
Joyce Chung and Kevin Yang
Russell Cinque and Carol Tseng
Steven Cintron and Archana Khare
Clarissa Clark and Avery Lyford
Robert and Yumi Clevenger
Roxanne and David Cohen
Alexandre Coimbra and Sandra Sanabria
Joseph and Senta Colombo
Jeremy and Lisa Conley
Bryce and Christine Cook
Kelly and Nelson Corteway
Lisa Costello
Elodie and Thomas Cottereau
Raquel Izumi and Todd Covey
Kendra and Ralph Crame
Terri Crawford and Cheryl Shelmadine
Jocelyn Cremer and Tom Lila
Rani and Brad Croshal
Annette and Michael Cuthrell
D & J Tile Company, Inc.
John and Diana DaBaldo
Janet Dahlberg
Jennifer Dahlman
Mlad and Odait Dalo
Steve Dam and Noemi Del Rosario
Scott and Angela DeBarger
John DeBorde and Sueyin Wong
Albert and Jennifer della Gatta
Elaine and Michael Dell'Aquila
Poonam and Sachin Deshpande
Mary Clair DeSoto
Elizabeth DeSpain
Maggie Diab
Jorge DiMartino and Clarissa Naftzger
Duane and Joan Dirstine
Bich-Khoi Do and Irene Velasquez
YanHai Dong and Huizhu Sun
Stacy Donohue and Chris Perrone
Beth and Doug Dooley
Nancy Chambers Doud and Craig Doud
Jennifer and Michael Douglis
Christopher Dowd and Radha Nayak
Laura Draxler
Carrie and Grant Du Bois
Jennifer and Jonathan Duarte
Sivakumaran Durairaj and Tamilselvi Sivakumaran
Gary and Kathleen Durrans
Elio and Mena D'Urzo
Greg and Kat Eden
Andy and Lisa Eliopoulos
David and Tatiana Elliston
Jeff and Suzanne Emerson
Josh and Julie Engberg
Catherine and Paul Engel
Elizabeth and William English
Bill Enloe and Yamina Lansari
John and Shoneen Erskine
Carmen Pilar Espana and David Pope
Nona and Paul Espinosa
Donna Even Kesef
Michael Evert and Karen Molinari
Shelly Fang and Phillip Lee
Tian Fang and Qiaole Huang
Elhay and Odelia Farkash
Annie and Saverio Ferme
Barbara and Dennis Fetterly
Carsten and Kirsi Fichte
Angelica and Tyce Fields
Ana and Una Fifita
Yuri Finkelstein and Alina Kagan
Mark Fish and Arlene Guerrero
Judith and Christopher Flood
Kimberly and Ryan Flores
Matt and Ulla Foehr
Cameron and Faye Fort
Alison and Sean Fox
Jonathan and Nicki Fox
Lisa and Kurt Frieden
Fred Fromm and Carrie Mefford Fromm
Grete and Jeryl Fry
Haoning Fu and Yan Ma
Victoria L. Fukuhara
Jennifer and John Gaboury
Scott Brylow and Andrea Gallagher
Individual Donors (cont):
Greg and Maria Gallegos
Mark Gallelo
Lianping Gao and Liqiang Wang
Jonas and Maria Victoria Garcia
John and Wendy Garrish
Christina and Scott Gattey
Geoff George and Karen Kwan
Joseph and Lauren Ghazal
Mehdi Ghazizadeh and Marjan Mossadeghian
Hisham Ghazouli and Irma Pereda
Amanda and Jonathan Gibbs
Regina Gitman and Vadim Tsinker
Derek Gittoes and Ling Shen
David and Kathleen Giusti
Diana and Rich Godwin
Lucy and Mark Goldenshteyn
Linda Goldman and David Leeb
Nandini Gondhalekar and Atul Suklikar
Jean and Kevin Gong
Julia Gonzalez-Golomb and Josh Golomb Josh
Michael Gottesman and Bonnie Wolf
Hsienwie and Stephen Gould
Anne Gray
John and Lana Greco
Michele Brenner and Robert Greene
Cynthia and Gerome Grivas
Denis and Suzette Gulsen
Brian and Nanci Gunning
Joann and Saul Gurdus
Arlene and Don Gurskis
Lars Hagen and Bettina Oelke
Aaliya and Aamer Hai
David Haimes and Victoria Banner
Bassem and Susan Hanna
Waqar Hasan and Valerie Vandervort
Chistopher Hauf
Matthew and Tracie Hawes
James Hawkins and Alison Uchihara
Andrew and Yuka Hazelton
Pushpa and Rakesh Hegde
Claudia B Heith
Gerrit and Laura Hendriksen
Monica Hendryx
Judy Heng
Goodwin and Rika Henry
Alyssa Herrera and Eric Set
John and Megan Hitchcock
Anne and Tim Hoffman
Dan Hoffman and Catherine Pieck
David Hoffman and Jeanne Sole
Richard and Yu Hogan
Janelle Holland
Cindy and Brent Holloway
Jen and Greg Holmes
Kasia and Rusty Hopewell
Colin Horst and Kate Shephard
Anne Hsieh and Peter Shao
Andrew Hsu and Samantha Seaward
Chia-Wei and Dora Hsu
Pao Huang and Chia Liang Yu
Xiaotao Huang and Senqiang Zhou
Nancy Huey
Jinye Huo and Baosuo Zhao
Heather and Todd Irwin
Kathy Ishibashi and Lawrence To
Georgia Jack
Amelia James Jacobs
Roger Jacques and Judy Tang
Xiaodong Jiang
Lizhang Jin and Zhaoyu Qian
Anna and Hermilo Jocson
Bard & Sharon (Cummings) Johnson
Bonnie and Simon Johnson
Toon Jordan
Nitin and Vidya Joshi
Rajesh and Tripta Joshi
Michael and Nancy Jung
Anjena and Sanjay Kacholiya
Aarati Kadu and Ravindra Dhumal
Angela and Nick Kalayjian
Alka and Raj Kanaya
Kavitha Kasturibai Ravindran Nair and Sukesh Kunjukrishna Pillai
Katalina Ramirez, MS, DDS
Kaufman Family Fund
Michelle and Steve Kelley
Kevin and Selina Kelly
Alex and Jaime Kent
Xu Keyang and Yali Lai
Issa and Jessica Khouri
Douglas and Shelly Kim
Yong-Jae Kim and Minjung Park
Daniel Kimberg and Marinna Stark
Linda and Michael Klieman
Carolyn and Ken Knobel
Brooke and Kevin Knoble
Kord and Van Kober
Helen Koh and Victor Lem
Jennifer Kollmann
Rachael Konrad and Stephen Shankland
Christopher and Suzy Kosh
Andreas Kraemer and Michele Vospette-Kraemer
Jacqueline Kraft
Mark and Nicola Kramer
Ilan and Suzanne Krayn
Sankar Krishnan and Rama Veerappan
Anonymous
Jo Kupbens
John and Winifred Kwofie
Chris and Irene Kyriacou
Rose Laflin and Justin Mauck
Yun Lan
Adrian Land and Lisa Wong
Philip Lao and Myaing Thu
Inga Lapsins and Robert Wiggers
Kara and Anthony Latta
Charisse Lee
Ha and Nathan Lee
Jena and Manfred Lee
Karen Lee and Steve Scholl
Kathryn Lee
Lena Lee and Albert Liong
Leslie Lee
Matt and Daniella Lefer
Pam Leffler and Miguel Pinilla
Clarissa and Felipe Leme
Kevin and Kristin Lemke
Christine and Michael Leong
Anna and David Leung
Aaron and Anita Levin
Ben and Rebecca Li
Anonymous
Thomas Li and Chang Lu
Barney's Family
Yanhui Li and Guiying Wang
Chris and RJ Ligtenberg
Daniel and Tracy Lin
Bruce Linenberg
Edward and Gail Lippi
Kerith and Michael Lisi
Yamori-Little Family
Max and Mona Litvak
Gong Xin Liu and Jinge You
Corey Livesay
Selene Lo and Ivan Yeung
Joseph and Alison LoCoco
Kate Loggett and Peter Welch
Deryk Loo and Jill Rilema
Ivy Lorilla
Andrew Luey and Jennifer Vo
Melissa Lukin
Alex Lumish
Doug and Joelle Lumish
Cathy Luo and Richard Wimmer
Carol and Sean Lynd
Chris Magpayo
Evgeniy and Tanya Makeev
Laura Ann Malinasky and Robert Tashjian
Herman and Yvonne Man
Mo Mangan
Eric Manning and Michelle Mc Lean
Heather and John Mannion
Jim and Tiffany Mansfield
Michael and Poorti Marino
Stacey Markel and John Zolck
Kevin and Leslie Marks
Gerry and Monica Marren
George and Janet Mastalir
Shahid Masud
Amy and Asaf Matatyaou
Suzy and Robin Mathers
Elizabeth and George Mathew
Michelle and Tan Matosian
Asher Matsuda and Sue Teng
Adria and Brian Matthews
Jessica and Keith Mattioli
Jennifer and Kelly Maurry
Annie and Warren Mayoss
Joel McCandless
Dwight and Raquelina McConn
Deborah McEvoy and Frank Stoeckel
Conor and Lisa McGann
Janice and Robert McGlaughlin
Marc and Annamarie McGuffin
Anonymous
Christina and Matthew McMichael
Justin Mehta
Lisa Meltzer-Penn and Jonathan Penn
George Metropulos
Pamela Miller
Individual Donors (cont):
Victor Mitnick and Nancy Nagel
Ahmad and Kouther Mokatrin
Elizabeth Moore and Thomas Francis Richason
Jeff and Sarah Moskovitz
Jeannette and Michael Mucha
Aditya Mukherjee and Anitha Toke
Joseph and Sara Murphy
Sarah Muscolina
Maria Myers
Jeff and Nekaya Nachmann
Laurie and Tal Nathan
Alex and Natasha Nayberg
Susan and Sam Neth
Maslyar Family
Katie Newsom
Catheryne Nicholson
Nicole Niederer and Stefan Zuckut
Brad and Mylinh Nightengale
Michael and Toni Nunes
Lisa and Colin O'Connor
Patricia and Richard O'Connor
Becky and Steve O'Driscoll
Gary and Winona Ohea
Hitomi Ohsawa and Steven Stocker
Alan and Raine Oiwa
Carisa Olivo
Phillip Ma and Jennifer Ong
Ma Nwe Ni Oo and Chai Ng
Sanaz Oskoui
Alan O'Sullivan and Yvonne Pang
Ravi Padmanabhan
Susan Pagliaro
Mayuri Panchal and Rohit Gupta
Anonymous
John and Mary Parden
Laura and Matt Parks
Marit Parten
Arthur and Marcela Pasquinelli
Ajay and Teresa Patel
Gregg Patner
Eric and Karen Peacock
Rebecca Pearlman and Ismael Sy
Martha Pearsall
Geti Peasley
Annallee and Joaquin Pedrin
Allan and Trang Pepito
Kristi and Richard Perazzo
Paige Perez
Kristi and Richard Perazzo
Christine and Ron Perris
Nicole and Ryan Polkowski
Barbara and Robert Pon
Larry and Tracie Pon
Frank and Bree Prince
Carol and Justin Raisner
Chithra and Ganesh Ramamurthy
Rafael Ramirez and Lorena Aburto Baer
Nina and Rick Rasor
Lee and Kelly Redmon
Janina and Jens Reeder
Brad and Peggy Reinders
Steve and Tanya Rianda
Dawn Richards
Ernie & Sandy Rick
Noam Rimon and Keren Ilanit
Ann Rivello
Annette and Steve Robinson
Michael Rogers
Jonathan and Mindie Romanowsky
Kara Ronberg
Doug and Jennifer Roseborough
Barry and Jennifer Rowland
Alissa and Daniel Rozansky
Galina Rozenblyum and Nikolay Yeretnov
Laurence Ruiz-Taylor and David Taylor
Liliane and Louis Saadeh
Srividya Sainath and Narayanan Sundarraman
MaryAnn Saisi
Tulug and Zeynep Salahifar
Victorio and Fiona Sam
Victoria and Jeffery Sang
Sandra Sanvido
Therese Sarhatt
Alan and Emily Sarver
Vishal Save and Shalaka Natu
Casey and Tiffany Scatena
James and Kari Schnapp
Jeff and Sarah Schnitz
Laurie Schoeffler and Paul Turner
Matthew and Monica Schreiber
Lara and Rick Schultz
Roger Feigelson and Rebecca Schwartz
Becky and Bill Scott
Karen and Mike Seaman
Hichem and Dorra Sellami
Cheryl and Jeffrey Selman
Ali and Maryam Shafaie
Thomas Shankland
Jeff and Mindy Shelton
Jason and Lynn Sherwood
Victoria Shi and Xinyu Wang
Karen Collom and Robert Shitamoto
Bernadette and Jay Shu
Karen and Rob Silfvast
Judy Sing and Andy Wang
Rajeev and Jaya Singh
Sylvia and Tomasz Skucha
Lisa Slede
Kenneth and Sharon Smith
Greg and Kristy Snow
Mehrdad Soltani and Mozhe Jalali
Sadie and Sean Somers
Jonathan Sonnenschein
Puneet and Sarika Sood
Ariela and Mark St Pierre
Allon and Hazel Stabinsky
Holly and Michael Standlee
Jonathan Stanton
Christopher and Margaret Starace
Jeannie and Kevin Stattenfield
Eriko and Ulrich Stauber
Grant Steunenberg
Sarah and William Stiefel
Charles and Jessica Stone
Mary Streshly
Andy and Michelle Stulbarg
Eri and Naoya Sugioka
Harlan and Melissa Suits
Carol and Ken Sundermeyer
Thomas Taggart and Karen Wang
Lilian and Warren Tam
Thomas Tam
John and Maria Corazon Tan
Jenny and Peter Tao
Alison and Nathan Taylor
David and Jennifer Taylor
Alison and Hans Ten Cate
Jeff and Robyn Tepper
Aurelie Teyssier
April Thompson
Aruna and Pramod Thuse
Igor Tochanskii
Katherine and Navid Tofigh
Angelka and Haydar Tolu
Peter Tong and Ria Van Hoef
Shaunda Toomasson
Donna Toroni
Meghan Malaviya and Nikhil Trikha
Lori and Terry Troy
Amy and Bob Truel
Caroline Tsang
Bogdan and Iulia Tudor
Gopala and Preet Tummala
Chuck and Faith Velschow
Serge Viatchenko-Kapinski
Brett and Michelle Villagrand
Calvin Vo
Alpa and Naresh Vyas
Linda and Jason Wacha
Crystal Wai
Steven and Tanuja Wakefield
Claus Wallacher and Nancy Yum
Albert William Wang
Haishan Wang and Jing Zhi
Cheri and Matthew Watkins
Angela Weinman
Brian and Chris Weiss
Gail and Steve Welter
Andrea and Mike Wescott
Andrew and Erika Westwood
Mai and Patrick Wheeler
Gary and Hillary Wiessinger
Debbie Wilhelm
Kevin and Linda Wilkinson
Alinna Lee and Don Windeler
Alex and Moddy Wong
Emily and Jeffrey Wong
Waisum (Sally) Wong
Kathleen Wynne
Vincent Xiang and Jenny Wu
Ping Xie and Fan Zili
Hale Yaman
Vadim Yarovoy
Hiroshi and Makiko Yasukawa
Alexander and Isabella Yavorskiy
Mary and Robin Ynes
Wang Yong and Hong Zhu
Adriene and Howard Young
Cindy and Daniel Young
Patriia Yu and Suibin Zhang
Andy Baehrle and Anya Yudin
Christopher Zang
Business Partners:


All Eyes on You Optometry
Vidhya Babu, Esq.
Belmont Waterdog Run
Body in Motion Chiropractic
Chang Orthodontics
Charles Stone, Esq.
Cook Homes
Cuisinett French Comfort Food
D&J Tile Company
Gattey Law Office
Hassett Ace Hardware
JSD Construction
Julia Mates City Council
Katalina Ramirez, MS, DDS
Ladera Garden & Gifts
McKenney Tennis Academy
On the Move Physical Therapy
Parden Insurance Agency
Paws and Play
Pietra Fina
Waterdog Tavern
Bagpiper Bash In Kind Donations:
Amici's East Coast Pizzeria
B Chic Fashions
Beautique Beauty Bar
Beauty Queen
Bella Nails
Belmont Water Dog Run
Cafe Bliss
Connie Bensen
CreoLa, A New Orleans Bistro
Cuisinett French Comfort Food
Divino Ristorante
Doc's Bagels
EdNova Academy
Falafelle
Farm House Restaurant
First Impression of San Carlos
Fish Market, San Mateo
GymClass
Hassett Ace Hardware
Iron Gate Restaurant
Jack's Prime
Jeff Bartee Photography
JoeyRay
Ladera Garden & Gifts
Luna Bay Arts
Mangos A Go-Go
Maverick Jacks, San Carlos
Mayan Restaurant
Menchies
Mints and Honey
Orange Theory, Redwood City
Parlour 151
Rebeccana Spa
Rita's, San Carlos
Row House, Belmont
San Mateo Florist
Shell Gas Station, Belmont
Stamp Bar and Grill
Dr. Ting Wang
Waterdog Tavern
West Park Bistro
Matching Companies:
Abbott Laboratories
Abbvie Pharmaceuticals
Adobe Systems
Apple Matching Gifts
Bright Funds Foundation
California Healthcare Foundation
Check Point Software Technologies
Cisco Matching Gifts Program
Cybergrants
Dell, Inc.
eBay
Electronic Arts Matching Gifts Program
Envestnet
Franklin Templeton Investments
Genentech Giving Station
Gilead
Google
Intel
Intuitive Foundation
Lam Research
Ligand
LinkedIn
Microsoft
NerdWallet
Nikon Precision
Omidyar Network Fund, Inc.
Oracle Corporation Matching
Playstation
Robert Half
RSS
Salesforce Foundation
SAP Software Solutions
Silicon Valley Community Foundation
Survey Monkey
Symantec
Synchrony
Verint
VISA
VMWare Foundation
Wells Fargo Foundation
William & Flora Hewlett FDN
Workday, Inc
Scholarship Donations:
The Fastenau Family
Harley J. Smith, Class of 1955 & Brigitte U. Smith