We are pleased to announce that Carlmont Academic Foundation (CAF) was awarded in February a $20,000 grant from Oracle to support cutting edge lab-centric course offerings in Carlmont's Biotechnology Institute and Computer Science Department.
The Oracle grant will provide water baths, dispensing pumps, and UV spectrometers for Biotechnology classes. Additionally, it will underwrite Raspberry Pi 3Kits for the Computer Science Department's newest course "Machine Architecture and Assembly Language."
The biotechnology equipment underwritten by Oracle will be used in Biomanufacturing, the senior capstone class. Tina Smith, Co-Director of the Biotechnology Institute, notes: "Students in the Biomanufacturing class will be using the Oracle-funded equipment to help them produce a biotechnology related product as part of their culminating assignment in their capstone class. Additionally, this equipment will be used in future years for several labs to improve student efficiency."
The Biomanufacturing class is unique. Students work in an "Incubator Lab" where they collaborate with a local community college professor to create bio-manufactured products (think "Shark Tank" for bio-manufacturing). Student teams will research and design their own unique products to manufacture. Students will use the water baths to allow careful control of cell growth and provide optimal temperature for enzyme activity. The dispensing pump will be used by students to mass-produce their chosen product. The UV spectrometers are essential for students to determine the purity of the product they manufacture. The equipment will also be used for the junior Biotechnology 3-4 class.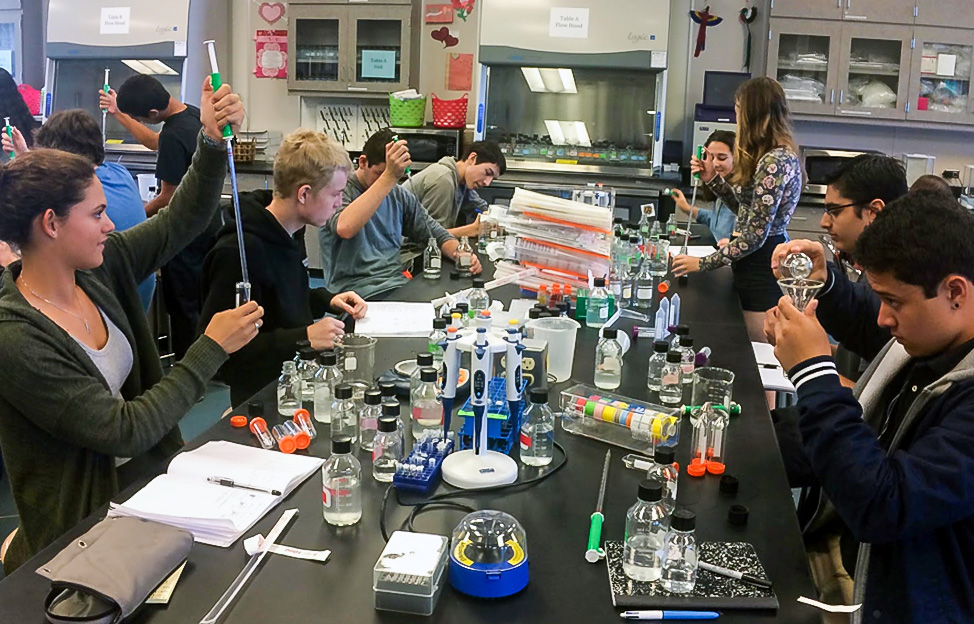 The Oracle grant also supports Carlmont's burgeoning Computer Science Department. In the 2014-15 school year, Carlmont offered three sections of two different computer courses. Now, in 2017-18, the Computer Science Department offers eight sections of four different courses for 235 students, including courses on Mobile Apps Development, The Structure and Interpretation of Computer Programs, AP Computer Science, and Machine Architecture and Assembly Language, Carlmont's newest class offering.
Machine Architecture students study assembly language and the software layer between hardware components and software. Students will design and build a processor using Logisim, which can run on Raspberry Pi 3 machines, small single-board computers developed to promote the teaching of basic computer science in schools. The class set underwritten by Oracle will allow students every year to run their culminating 32-bit processor projects (including running their MIPS assembly code through their created Assembler, Linker, Regfile, and ALU) on a hardware device.
Karyn Voldstad, the Computer Science Department Chair, says "Increasing participation in Computer Science is a priority for Carlmont, and it requires expensive equipment. We are grateful to Oracle for providing funds for some of that equipment, as well as classroom volunteers from Oracle who helped get our program going."
Thank you Oracle for your continued generous support of Carlmont High School.